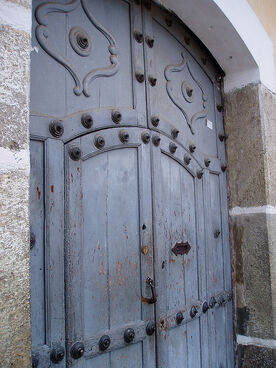 Gate of Urg, is a gate in Gringotts, The Wizarding Bank, that leads to Vaults 100-799 and 900-1000. Gates 900-1000 are a new addition to Gringotts, which means they are not as secured as Gates 800-899 This gate is only accesible by goblin because it is the most secured section in Gringotts. The gate was added in 2005 to add more security to those gates that people wanted to keep in complete safety. The gate is named after Urg the Unclean. Urg was an activist in the Goblin Rebellions. It was meant to show the Goblin's Pride.
Gate of Urg

No Title

No information
After the Battle of Hogwarts, in 1998, Death Eaters lost control of the Ministry hereby Gringotts. The goblins were furious at wizards for killing so many of their own kind. Gringotts officially closed down for about a month, but reopened after Kingsley Shackelbolt settled things for them. The goblins after reopening decided they would never be robbed again, so they set up more security. The Gate of Urg has the average protection .(History made up by editor. Do not take seriously).
Security
Edit
Gate of Urg has two wizard guards on each side who check that the goblin escorting you is not under the Imperius Curse or is a Traitor to the Bank. Once on the Mine Cart the customer will go through the Thief's Downfall.
Mine Cart
Edit
All Aboard the Gringotts Mine Cart! Which vault is it today Madam/Sir?
Vaults Beyond the Gate
Edit
Gates
100 101 102 103 104 105 106 107 108 109 110 111 112 113 114 115 116 117 118 119 120 121 122 123 124 125 126 127 128 129 130 131 132 133 134 135 136 137 138 139 140 141 142 143 144 145 146 147 148 149 150 151 152 153 154 155 156 157 158 159 160 161 162 163 164 165 166 167 168 169 170 171 172 173 174 175 176 177 178 179 180 181 182 183 184 185 186 187 188 189 190 191 192 193 194 195 196 197 198 199 200 201 202 203 204 205 206 207 208 209 210 211 212 213 214 215 216 217 218 219 220 221 222 223 224 225 226 227 228 229 230
900 901 902 903 904 905 906 907 908 909 910 911 912 913 914 915 916 917 918 919 920 921 922 923 924 925 926 927 928 929 930 931 932 933 934 935 936 937 938 939 940 941 942 943 944 945 946 947 948 949 950 951 952 953 954 955 956 957 958 959 960 961 962 963 964 965 966 967 968 969 970 971 972 973 974 975 976 977 978 979 980 981 982 983 984 985 986 987 988 989 990 991 992 993 994 995 996 997 998 999 1000