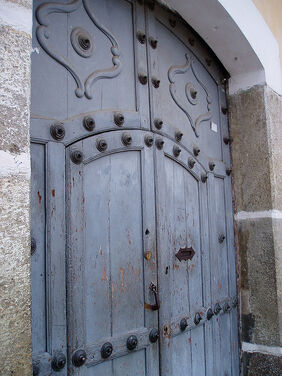 Gate of Brodrig, is a gate in Gringotts, The Wizarding Bank, that leads to Vaults 2-99. This gate is accesible by wizard because it is less protected and less valuable. The gate was added in 2005 to add a little more security. The gate is named after Brodrig the Boss-Eyed. Brodrig was a spokesgoblin on the Brotherhood of Goblins. It was meant to show the Goblin's Pride.
Gate of Brodrig

No Title

No information
After the Battle of Hogwarts, in 1998, Death Eaters lost control of the Ministry hereby Gringotts. The goblins were furious at wizards for killing so many of their own kind. Gringotts officially closed down for about a month, but reopened after Kingsley Shackelbolt settled things for them. The goblins after reopening decided they would never be robbed again, so they set up more security. The Gate of Brodrig is the least protected for it contains the less important objects in the vaults.(History made up by editor. Do not take seriously).
Security
Edit
Gate of Brodrig is opened by a flicker of the witch/wizards wand. If it is not the wizard or the wand the gate will not open. There is two wizard guards inside patroling the vaults to make sure no one is doing anything wrong.
The customer in this gate can walk along the stonepassage in the cave and does not need an escort by a Goblin.
Vaults Beyond the Gate
Edit
Gates
2 3 4 5 6 7 8 9 10 11 12 13 14 15 16 17 18 19 20 21 22 23 24 25 26 27 28 29 30 31 32 33 34 35 36 37 38 39 40 41 42 43 44 45 46 47 48 49 50 51 52 53 54 55 56 57 58 59 60 61 62 63 64 65 66 67 68 69 70 71 72 73 74 75 76 77 78 79 80 81 82 83 84 85 86 87 88 89 90 91 92 93 94 95 96 97 98 99